Instead of sleeping, which I should be doing, I'm writing down my 5 biggest wishes for Davenport in 2006. I'd post this closer to New Years, but my flight for sunny Arizona leaves in a mere 4 hours. I'm not sure how many posts I'll be able to make in the coming days.
Anyway...
I hope that in 2006 Davenport can:
5.
Reduce crime. Somehow, some way, make Davenport safer. Enough said.
4.
Help prairie Heights succeed. I'm a big fan of new urbanism, mostly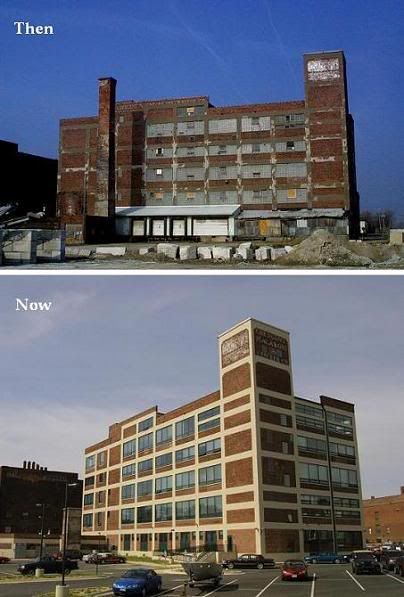 because it reminds me of the way I grew up. I spent my childhood in a neighborhood where I could walk to the park for baseball, stop in at a corner store and buy some Laffy Taffy or baseball cards, and where the front of our house was dominated by a door for
people
, not cars. We can create new neighborhoods like this.
3.
Continue the downtown "momentum." As much as people would like to pretend that all the downtown progress isn't working, it really is. The Crescent Loft district is sprouting new downtown living, new businesses are moving downtown, and PEOPLE can actually be seen walking around on downtown streets. Continuing this will help keep the 20-somethings (my generation) from going elsewhere.
2.
Redevelop the former Showcase Cinema and Ramada/Wickliffe Inn on North Brady. These 2 parcels add up to over 25 acres, and
don't provide the best welcome to Davenport to visitors coming off of I-80. Surely something could be done with the property.
1.
That all of us could honor and respect Fly's Rule #3, and honor and respect each other, no matter what their personal politics or views are. No one deserves personal attacks just because they are passionate about their views, whichever side they're on. We're all doing what we think is best for Davenport.